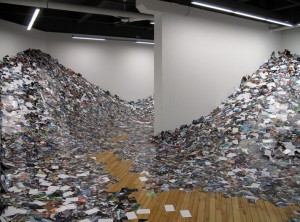 C'est une expérience plus qu'une véritable exposition à la Contact Gallery, dans le cadre du festival Contact 2013. Erik Kessels a téléchargé et imprimé en format carte postale toutes les images mises sur Flickr en l'espace de 24 heures.
À Toronto, ce sont quelque 350 000 images (sur un million !) qui ont été littéralement déversées dans les deux salles et le couloir de la galerie. Des montagnes de photographies qui représentent bien notre rapport à l'image aujourd'hui et provoquent inévitablement une réflexion sur la place de l'image dans notre société. Le visiteur marche inévitablement sur des photos, piétinant une image qui a sans doute de la valeur aux yeux de la personne qui a pris le cliché. L'effet de se retrouver face à ces tas fait réaliser, mieux qu'un chiffre abstrait, l'ampleur de notre production iconographique. Il est clair que cet immense pêle-mêle de photos artistiques ou banales, personnelles, bonnes ou mauvaises ne pourra jamais être regardé.
Quel est donc le sens de notre frénésie de prise de vue ? Cela rejoint la question posée au ROM : « pourquoi prenez-vous des photographies ». Un mot qui revient souvent dans les réponses est « pour se souvenir ». Certes, la photo laisse une trace, est un morceau de temps. Mais quand on essaie de tout retenir pour que nos petits moments de vie ne s'effacent pas à cause de notre mémoire défaillante, la trace se perd. Noyée dans la masse, l'image n'existe plus vraiment, n'a plus de sens. Le visiteur est quasiment obligé de piétiner des images, peut s'asseoir dessus en regarder quelques-unes – une infime partie bien sûr. Nous voulons tous garder des images pour pouvoir les regarder un jour, mais ne voyons plus.
Cette expérience est une approche ludique et concrète pour comprendre la problématique de l'abondance d'images aujourd'hui.
This is more an experience than a real exhibition at Contact Gallery, during Contact festival 2013. Erik Kessels has downloaded and printed all the images that had been uploaded on Flickr within 24 hours.
In Toronto, some 350 000 images (out of a million or so) were spread out in both rooms and hallway of the gallery. The visitor finds himself facing huge mountains of photos which tell us how we view photography today. This is an efficient means to think about the role of images in our society. You have to walk on some prints, treading on what is probably valuable for the person who took the shot. The statistics strikingly come to life as you experience today's gigantic image production. These images are a mix of artistic or ordinary, personal, good or bad pictures. Who is ever going to browse through it all? It is clear the task is impossible – as well as it is useless.
So why are we compelled to take so many pictures? If we look at the answers at the ROM's question "why do you take photographs?", a recurring word is "remember". A photograph is, indeed, a trace, a bit of the past. Yet when you try to hold on to every single little moment so that none is erased by our fainting memory, these traces get lost. Drown in numbers, each image doesn't really exist anymore, it is emptied of all meaning. The visitor almost has to tread on images, can seat on them and have a look at some (very few of course). We all want to keep images to be able to look at them someday, but we are blind.
This experience is a playful yet tangible way to understand the issue of the abundance of images today.