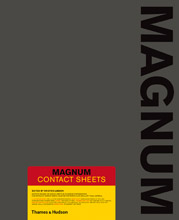 Magnum contact sheets est un – gros ! – livre qui permet une plongée unique dans les grandes photos de cette agence renommée.  Sur 500 pages, des planches contact sont reproduites avec les photos qui ont été choisies ; les raisons de ces choix sont expliquées. On comprend ainsi ce qu'est le métier de rédacteur photo et quels critères sont pris en compte pour sélectionner la "bonne" image. Ce qui est aujourd'hui plus que jamais indispensable vu l'abondance d'images produites.
Le format du livre n'est certes pas très maniable avec un grand groupe, mais il est nécessaire pour le confort de lecture.
Magnum contact sheets is a – big ! – book that takes you into some of the great images of this renowned agency.  The contact sheets and photos chosen therefrom are presented on 500 pages ; the reasons for these choices are explained. Thus it is easy to understand how photo editors work and what criterions are taken into account to pick the "right" image. This is more than ever needed today as so many images are produced.
The book is indeed too large to be used with large groups, but this format is necessary to enjoy its content.