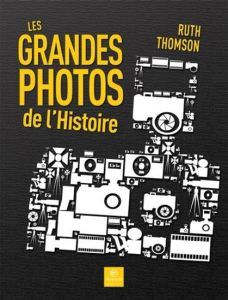 Les grandes photos de l'Histoire, de Ruth Thomson (Bayard 2014, 62 pages)
Ce livre est destiné aux plus jeunes, mais il est plaisant – et pas forcément inutile ! – de le parcourir à tout âge. Il présente d'un côté en pleine page une image clé dans l'histoire de la photographie : du cheval au galop de Muybridge au Pearblossom Highway de David Hockney, en passant par les fées de Cottingley (Elsie Wright) ou le baiser de l'Hôtel de ville (Robert Doisneau). En face, systématiquement, des questions pour faire réfléchir le lecteur et des explications pour comprendre cette image. Un glossaire à la fin permet de récapituler les termes fondamentaux.
This book is more intended for youngsters, yet anyone can enjoy browsing through it and learn something ! 
On every other page there is a key image in the history of photography: from Muybridge's horse to Hockney's Pearblossom Highway, through Wright's fairies and Doisneau's kiss. On the opposite page, there are questions to make the reader think and explanations to understand the picture. The glossary at the end proves quite useful to go over some significant words.